Chapter 6. Bridge of Spies
Creation of period graphic props and signage From the 1960's for international feature film directed by Steven Spielberg.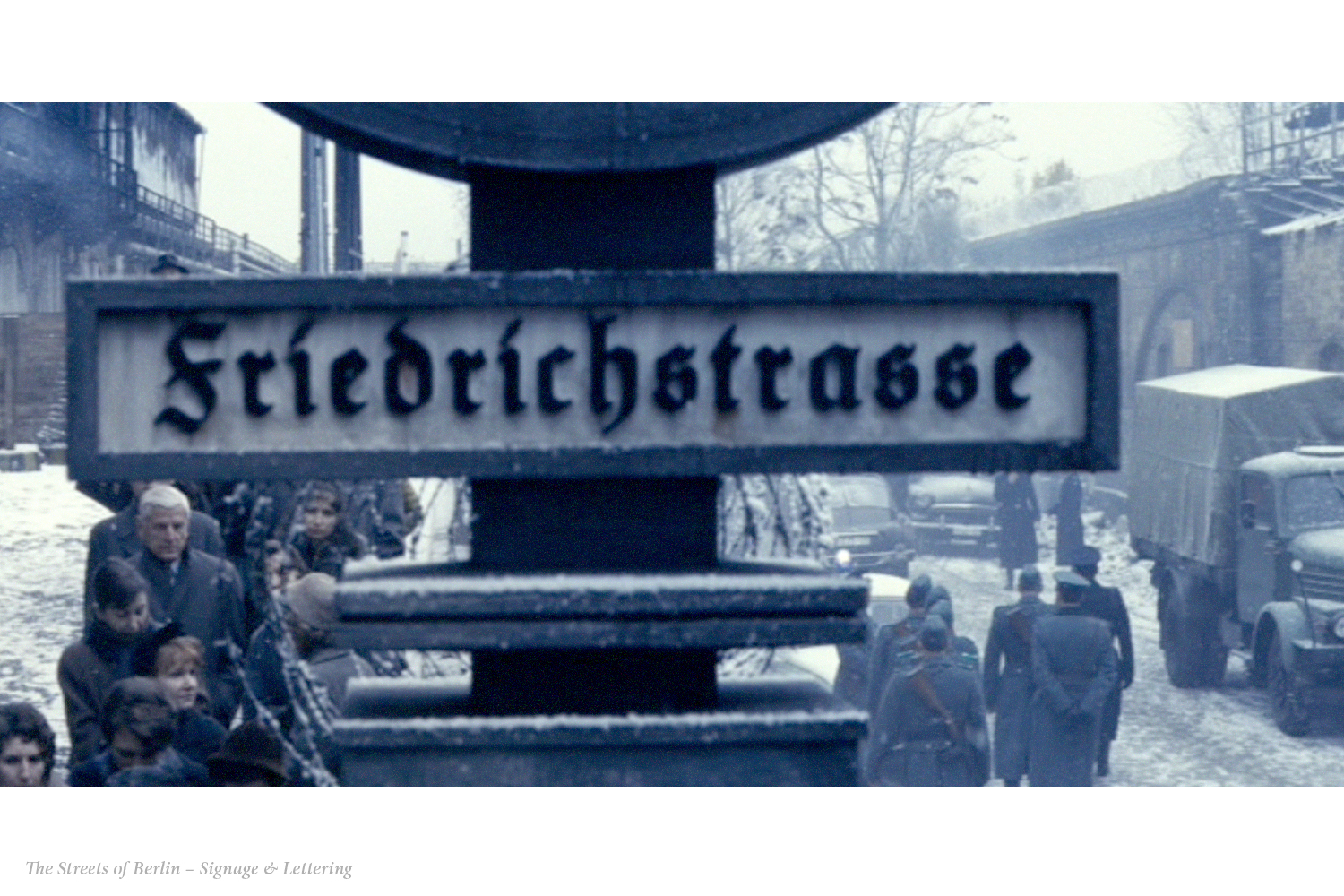 Project Description
Synopsis
At the peak of the cold war during the 1960's a New Yorker lawyer James B. Donovan (Tom Hanks) is recruited by the CIA to publicly defend the soviet spy Rudolf Abel (Mark Rylance), arrested in the US. Simultaneously Donovan is entrusted to negotiate the release of Francis G. Powers (Austin Stowell), a CIA spy pilot held captive in the Soviet Union. He is sent to Germany to organize the exchange of Abel and Powers that takes place on Glienicke Bridge – the ›Bridge of Spies‹, on the border between East and West Berlin. What secrets will they reveal?
This film was produced by DreamWorks Pictures, Fox 2000 Pictures, Reliance Entertainment, Participant Media, TSG Entertainment, Afterworks Limited, Studio Babelsberg, Amblin Entertainment, Marc Platt Productions and is property of Walt Disney Studios Motion Pictures and 20th Century Fox.
The Team
On behalf of Schein Berlin, in very close collaboration with graphic designer Annie Atkins, production designer Adam Stockhausen and the film crew working directly for director Steven Spielberg.
 
ESSENTIAL ROLE
Working hand in hand with Annie Atkins brought the project to life. Next to the Graphic Design work, Liliana was in charge of coordinating, creating and producing the range of props and signage to overtake specific details in a shared assignment.

 
Date | DuratioN
Completed in 4 months (September till December 2014)
MILESTONES | HIGHLIGHTS
This particular project was like a grand finale after which, Liliana felt the time had come to move on to new challenges.
 
LEARNINGS | FALLBACKS
In order to tackle the large amount of working hours and handle requests of two different continental shooting units, it was important to carefully balance the workload and upcoming deadlines. This meant Annie and Liliana had to create very detailed timing plans that allowed them to work to standards every day and still find time to recover and recompose for the following deadline. The overall amount of detail demanded to ensure to set priorities according to time sensitivity though which trusting and safeguarding each other was key.

A clear vision of what can be delivered within a given timeline, and to be able to communicate it clearly was vital. Requests are usually made 'on the go'; to get every bit of information needed to accomplish a task, particularly necessary when creating street signage, Liliana had to learn to insist with charm and make sure to filter what is relevant.
 
Special Thanks to
Annie Atkins (Graphic Design)