Chapter 1. Mygreat
A networking service for newcomers to see the lives of people living in Copenhagen through visually engaging content.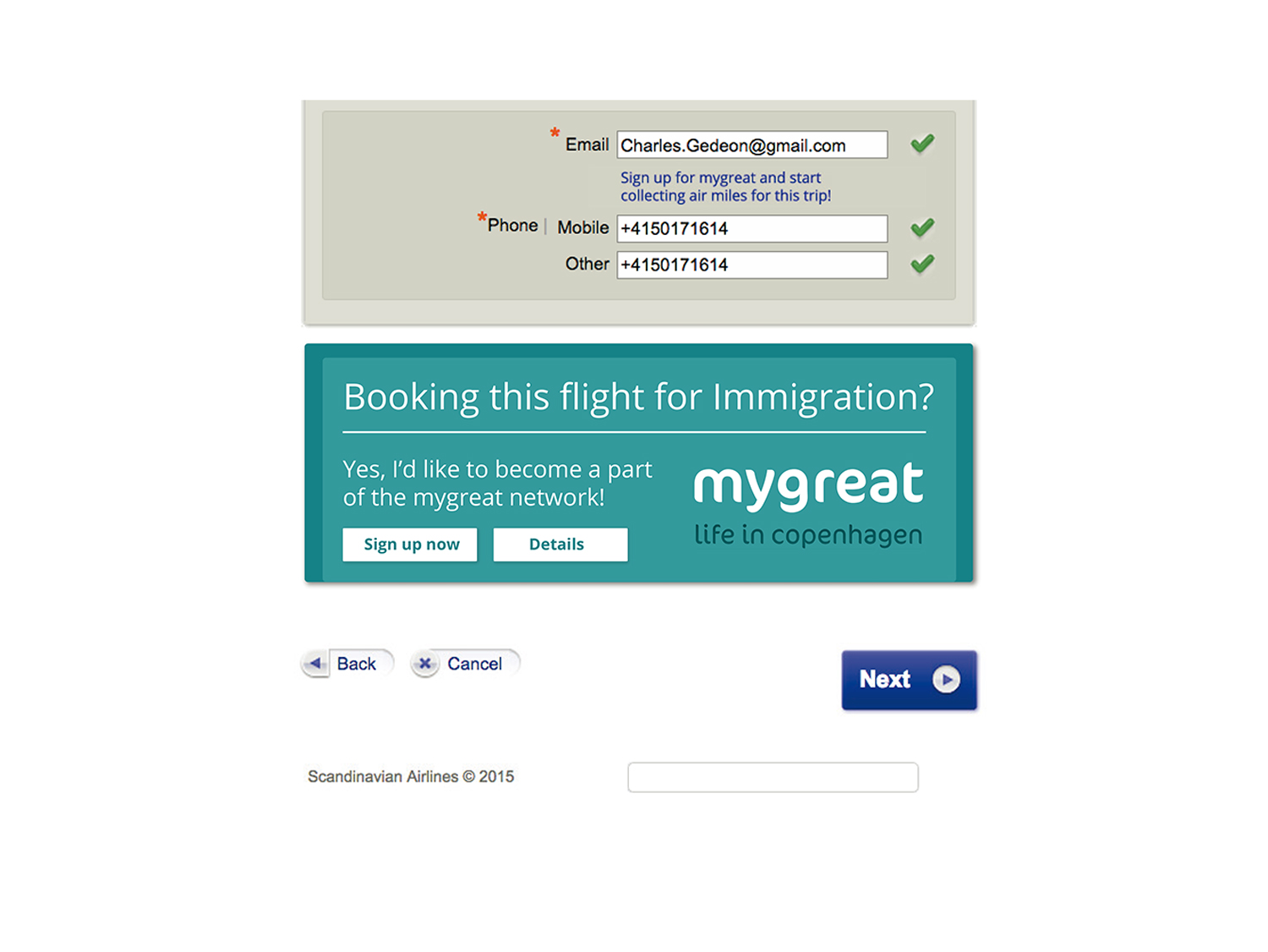 Project Description
Opportunity
Most of us might have experienced how it feels to be new to a place. Moving to a different city or other country can be difficult and it takes time to acclimatize. ›Mygreat – life in Copenhagen‹ wants to address this problem and is the result of a month long collaboration with the International House (IH) in Copenhagen. The IH offers various immigration, integration, and job search services to newcomers. Gunes Kantaroglu, Feild Craddock, Sudhanshu Gautam and Liliana were tasked with identifying opportunities to design new services. After interviewing over 30 users and co-creating with various respondents, they found that having a network before arriving in Copenhagen is crucial to unlock the potential of the city. They also realized that people's experiences of immigration starts in their home country. At that point, they would like to have visual tools to start imagining their new life.

Along with her team, Liliana wondered – can a virtual network be generated, that operates as a safety net for newcomers before they even arrive?
›Mygreat‹ is a networking service for newcomers to see the lives of people living in Copenhagen through visually engaging photo, video, and voice over content. The service provides a platform for citizens to showcase the usual or unique aspects of their city lives as useful and interesting information for someone new to the capital. As soon as foreigners ascertain their arrival date (via flight ticket or STAR visa approval), they can start watching and engaging with the content posted by their hosts. The newcomers are also automatically allocated in a group with others who plan to arrive in the same month. This lets them exchange information, start networking, and plan their lives before they arrive. The service aims to reinforce a sense of comfort and ease before moving to a foreign country.
The team prototyped the service using Snapchat's ›My Story‹ feature and later on held Skype interviews with previous newcomers for their feedback. In the first iteration, each team member played the role of a host and showed the others in the group around Copenhagen (tourist locations, cultural hotspots, local bars, markets). For the final iteration, four expats currently living in the city were recruited. These designated hosts produced short video series i.e. ›a day in the life of‹, and introduced their lives and surroundings to the newcomers.
The Team
The project was realized with Gunes Kantaroglu, Feild Craddock and Sudhanshu Gautam.
Expertise
Research, Co-Creation, Prototyping, User-Experience, Concept, Visuals (except of User Interface), Service Design

 
DATE | DURATION
Completed in 1 month (August 2015) as part of the ›Data-Driven Service Design‹ course at CIID (Copenhagen Institute of Interaction Design).

 
Appearances
Interaction Awards 2016
MILESTONES | HIGHLIGHTS
During this particular project, Liliana primarily challenged herself to dig deep into user research and the conceptual thinking phase of the process. This involved holding interviews and co-creation sessions, synthesizing data, crafting the experience, and concentrating on bringing the information to life in blueprint and user journey.

Learnings | Fallbacks
Having no more than a few seconds to gain someone's attention and establish that moment of trust where respondents feel like opening up and willing to talk can be quite challenging and tough. Especially in such a tense bureaucratic atmosphere as it occurred to be at International House. As a result, Liliana realized how important it is to be sensitive and cautious of the environment and how it reflects and effects people. The more considerate the team felt in terms of timings and in the evaluation of the user type – the better the interviews went. Satisfyingly, some of them led to unexpected and lengthy conversations.

SPECIAL THANKS TO
Chris Downs (Course Instructor)
Marei Wollersberger (Course Instructor)
Jenna Date (Course Instructor)